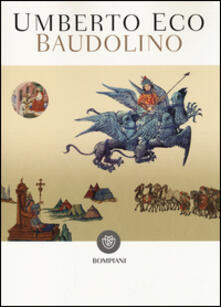 Umberto Eco is for sure one of the more knowledgeable men of our times. He's main interest is semiotic, but he knows about everything on the middle age topic. In his books I read in the past, his huge knowledge transpired from every page. I don't know if it is the will to teach, or the familiarity he has with facts, stories, concepts, that leads him to write very dense novels. Enjoyable plots that need a great deal of patience to read.
For these reason I was quite surprise when started reading Baudolino. The first half of the book was a really smooth reading. Funny at times, interesting because many aspect of the middle-age life style and story were presented to the reader as part of the plot, and not forced into.
Unfortunately I found the second half of the book less smooth, never reaching the levels of "The Focault's Pendulum", nonetheless quite different from the first part.
The story is about a boy named Baudolino from a small Northern Italy village. One day he meet a man which turns out to be the Emperor Frederic ReadBeard. The Emperor is lost in the forest and Baudolino leads him, unknowing of his real identity, to home. For this reason the Emperor decides to take Baudolino under his wing and brings the boy along him and later will send young Baudolino to the University of Paris.
Baudolino is very clever and inclined to smart lies, but above all is really fitting its time.
Belonging to Emperor Court, Baudolino is more or less involved in every events of the time – wars, councils, siege.
In fact the story is presented as Baudolino, now about 60, telling it to a historian in Bisanzio.
About every middle age myth, event, every day life is touched in the novel – the Graal, the unknown lands to east, the pervasive religiousness. It is likely that you can read "Baudolino" on more levels. Hardly some ideas, some dialogues, some points can be placed where they are by chance, or just because Eco didn't find a better place. Anyway further levels of readings remain quite beyond my reach :-). For sure one of the central theme is lie, truth and doubt. Baudolino is telling lies to the historian, but they fit the expectation of the time and they build up an intriguing story. On the other hand the historian has to tell history by selecting what is worth and what is not and adjusting things so that a sense could emerge.